3 easy payments,
0% interest payment,
No hidden fees.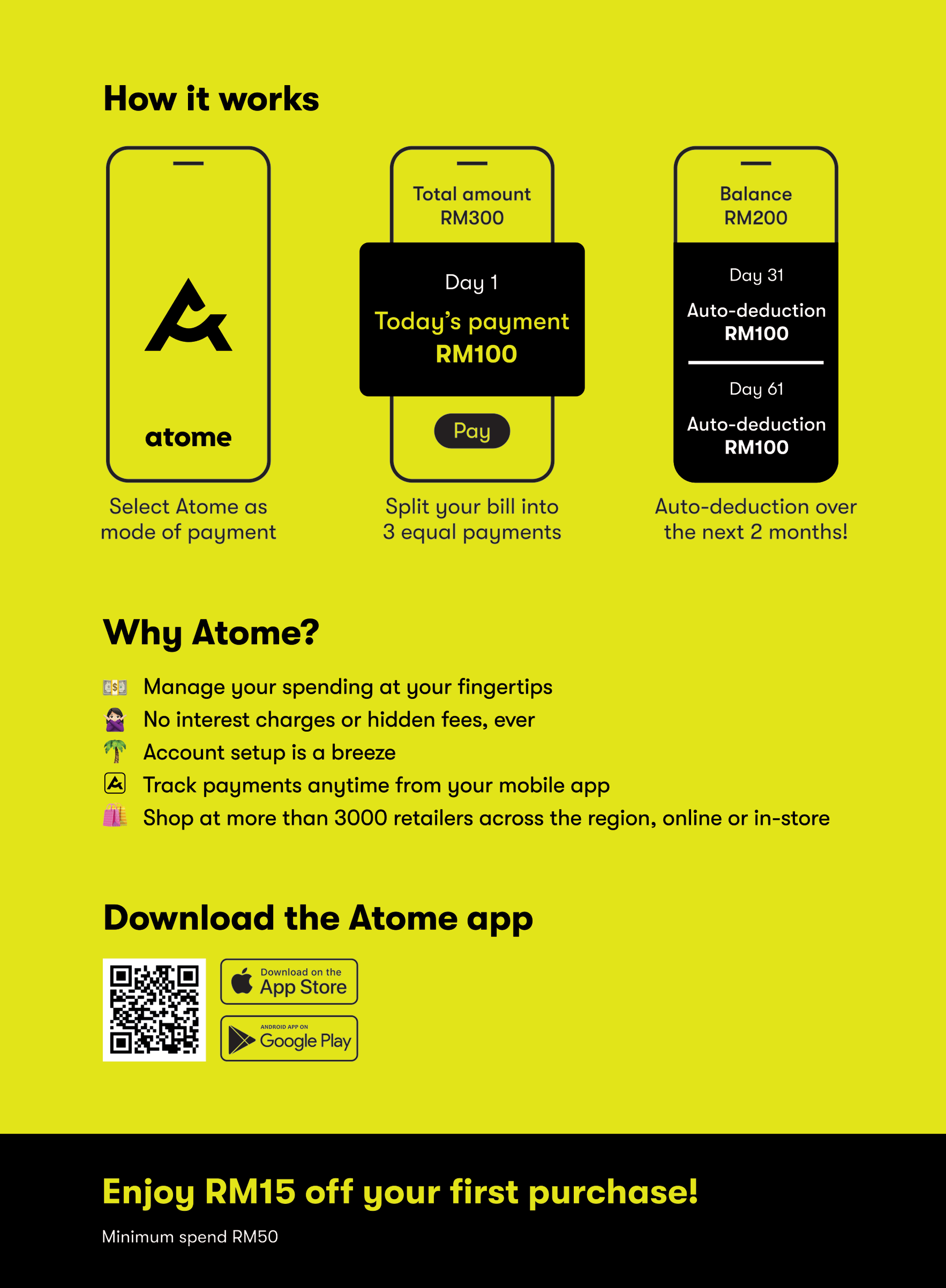 ---
Frequently Asked Questions
Q: What are the payment methods for repayment?
A: App repayment. Go to your ATOME APP. Select "Check and Pay" overdue bills. Update your credit or debit card details.
Auto-Deduction. Deposit sufficient funds to the debit/credit card bound to your Atome account for auto deduction.

Q: Am I eligible to use the Atome service?
A: To use the service, you must:
• Be at least 18 years of age
• Currently reside in Malaysia
• Have a mobile phone number registered under your MyKad with your telco
• Own a credit or debit card that will be used to pay for your purchases on Atome

Q: How do I pay using Atome?
A: Shop with us online and choose Atome as your preferred payment method at checkout. Make your first repayment (one-third of your bill) with your credit or debit card at the time of purchase and the rest over the next two months in two equal interest-free instalments. It's that easy.

Q: Do customers have to pay any fees for using the Atome service?
A: Atome is a free service: there are no hidden service fees or interest charges if you pay all your scheduled instalments on time.

Q: What happens if I miss a payment?
A: If you missed a scheduled payment, Atome will charge you an administration fee and freeze your account until the outstanding amounts are paid. To reactivate your Atome account, Atome will charge a RM50 fee. If this reactivation fee and instalment is not paid within seven days, an additional RM25 fee will be charged (by Atome). In Malaysia, the maximum administrative fee is capped at RM150 per transaction.